If you learn basic Hindi, you will find it goes a goes a long way when traveling in India
This is a guest post by Indian blogger Shalu Sharma, who published a book called "Essential Words and Phrases for Travellers to India." To learn basic Hindi words and phrases you will need, and to buy the book, read on.
As long as you know English, there will be few communication issues in India. Most Indians know some English, however some will not be able to converse as fluently as you would prefer including taxi drivers, waiters, porters and hotel staff. This is where some basic Hindi words, phrases and sentences can come handy. You can learn Hindi through English, and basic Hindi words for beginners, quite easily. 
---
If you are planning to travel in India, let us help you! We offer itinerary planning, India for Beginners custom tours, and much more to make sure your trip to India is filled with more magic … and less madness. 
---
Where exactly is Hindi spoken?
Hindi can be spoken in most parts of India, especially the urban areas. It is the main language of the states of Delhi, Uttar Pradesh, Bihar, Jharkhand, Haryana, Madhya Pradesh, Chhattisgarh, Himachal Pradesh and Rajasthan. Hindi is the national language of India and it is thought that 60% of India's population speak Hindi. The other 40% can understand Hindi to some extent.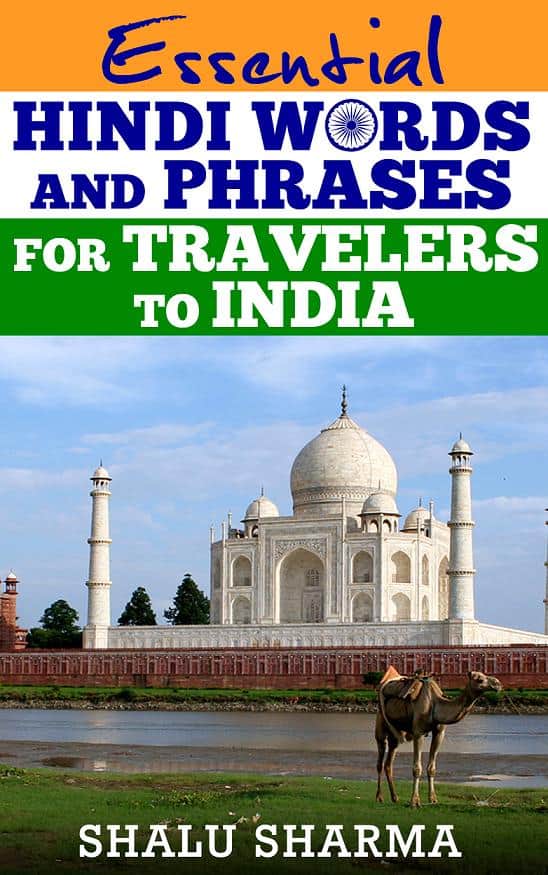 In most North and Central Indian states where Hindi is not the main language — such as West Bengal, Gujarat, Punjab, Odisha, Maharashtra and states in the North East — you should be able to get away with speaking Hindi. People belonging to these states have no objections to Hindi and Hindi is even taught as a secondary language.
In some South Indian states such as Andhra Pradesh and Karnataka many people will respond if you speak Hindi with them. However, two South Indian states where Hindi is not spoken, and even discouraged, are Tamil Nadu and Kerala. But, in recent years, even people from these states are watching more Hindi movies than ever before and getting to know the Hindi language. So if you were to polish up on some Hindi before going to India, it will prove to be a valuable asset no matter where you are going.
Hindi can be quite challenging for the average English speaker. It is a phonetic language, so it's spoken as it is written. Hindi uses a lot of English words so you can often replace Hindi words with English. For example, there are no words for "station" or "doctor" in Hindi (if there is one, I am not aware of it and have been speaking Hindi all my life). Some other commonly used English words include railway, hospital, train, cycle, motor, bus, cricket, karma, thug, guru, jungle, bungalow and so on. [NOTE: some of these English words originated in India.] If you are stuck on a Hindi word, then replace it with its English equivalent.
Below are some common Hindi words, phrases and sentences widely used in India. Just pronounce the words the way they're written.
Basic Hindi words, phrases and sentences
Hello – Namaste or Pranam
Hello Amit – Namaste Amit ji (ji at the end of the name is used to show respect)
Me – Mai
I am from USA – Mai USA se hum
Mine – Mera
This is mine – Ye mera hai
Yours – App ka
Is this yours – Kya ye aap ka hai
Who – Kaun
Who are you – Aap kaun hai
Clothes – Kapra
Where are my clothes – Mera kapra kaha hai
Tea – Chai
I need a cup of tea – Mujhe ek cup chai chahiye
Water – Paani
I need a bottle of water – Mujhe ek bottle paani chahiye
Food – Khana
Give me food – Mujhe khana do
Do you speak English – Kya apa English bolte hai
Speak slowly – Dheray boliye
Yes – Haa
No – Nahi
Please – Kripya
Thank you – Dhanevaad
More basic Hindi sentences
How are you – App kaise hai
I am fine – Mai thik hu
Nice to meet you – Aap se milkar khusi hui
Who are you – App kaun hai
What is your name – Aap ka kya naam hai
My name is Mariellen – Mera naam Mariellen hai
Where are you from – Aap kaha se hai
I am from Canada – Mai Canada se hu
Where is the station – Station kaha hai
Where is the bus stand – Bus stand kaha hai
Where is the toilet – Toilet kaha hai
Can you help me – Kya aap meri madaad karenge
What's this – Ye kya hai
I want to buy this – Mujhe ye kharidna hai
How much is this – Ye kitnay ka hai
Lower the price – Daam kum kijiye
There are some things that make learning Hindi challenging. Hindi has gender nouns (masculine or feminine); it is perhaps the most difficult part of learning Hindi. Also, the various states of India speak Hindi differently. For instance, my Bihari Hindi is different from Hindi spoken in Delhi. It's only when we write Hindi that we use the formal methodology. Finally, though India is a country where English is spoken widely, it is still useful to learn some basic Hindi for your travels to India. I suggest you memorize some of these key words Hindi words and phrases and don't be afraid to use them. – Shalu Sharma
Recommended language learning courses and apps
I'm currently researching the best courses and apps for learning Hindi (and other languages). I'm looking into Doulingo at the moment, and will update this space as I try out others and find out which are the best. – Mariellen
Learn Hindi language faster
I found this video by Karl Rock really helped pinpoint the specific challenges that English speakers face when trying to learn Hindi. Watching it could really help you learn basic Hindi faster. – Mariellen
About the author
Shalu Sharma is the author of "Essential Hindi Words And Phrases For Travellers To India." Shalu is also the editor and founder of ShaluSharma.com, a blog about travels to India. Originally from Bihar, she speaks Hindi at home.
---
If you enjoyed this post, you can….
Sign up to The Travel Newsletter in the sidebar and follow Breathedreamgo on all social media platforms including Instagram, TripAdvisor, Facebook, Pinterest, and Twitter. Thank you!
Thank you for reading. Please visit Breathedreamgo or stop by my Facebook page at Breathedreamgo.